Hop in a Ferrari for an unforgettable day!
A package of hotel + sport driving class of incredible appeal, to take you behind the wheel of a Ferrari Challenge in collaboration with the official Ferrari dealership, Rossocorsa. To realize the dream of a day of driving on the track in a Ferrari, accompanied by on-the-spot technical and racing support, all while pampered by the best in hospitality. Hotel Cinque Giornate of Milan offers options for both individual customers as well as special offer guests.
The exclusive combination of driving courses on the track, supervised by the sport division of the licensed dealership, Ferrari Rossocorsa and accommodations in Milan at the Hotel Cinque Giornate, will provide you with a day of thrills!
During your stay in Milan at our Hotel , you will have an irresistible opportunity to spend a day on the track that includes a trial run of the Ferrari Challenge F360 and F430, classroom instruction with Ferrari driver-instructors, presentation of your participation diploma and the fantastic video with your Test Drive. Lunch, free bar and FREE Ferrari gadgets for all participants!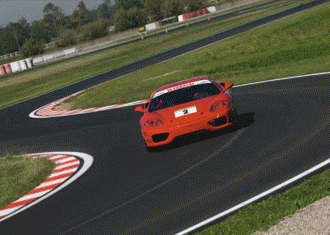 Please contact us for details and full program itinerary!
Tel +39 02 5463433